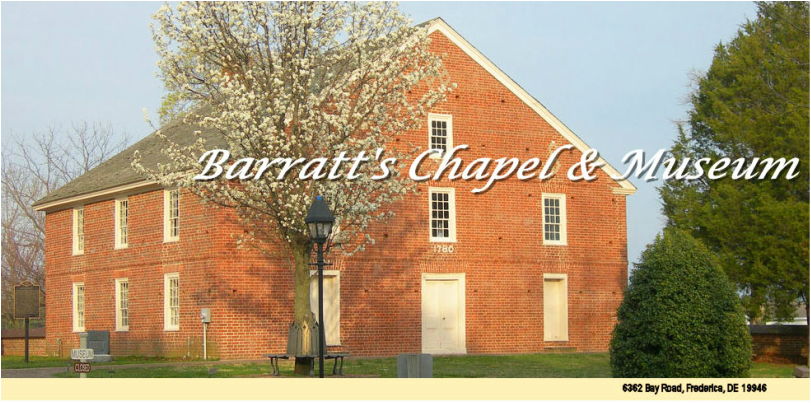 SUMMER SERVICES

In June and July, Barratt's Chapel will hold a series of informal worship services on Thursday evenings. Services start at 7:00 p.m. and end around 8:00. Refreshments will follow the services. Everyone is welcome.

June 7 - Bishop Peggy Johnson
June 14 - Rev. James Whittaker, Waugh Chapel, Cambridge, MD
June 21 - Rev. Earle Baker, Bethel UMC, Lewes, DE
June 28 - Rev. Ed Kuhling, Grace UMC, Millsboro, DE
July 5 - No Service
July 12 - Singing and Praying Band of Maryland & Delaware
July 19 - Pastor Janice Herman, Friendship UMC, Millsboro, DE
July 26 - Rev. Karen Tunnell, St. Paul's UMC, Odessa, DE



A Note about Highway Construction

The construction work on Route 1 in front of Barratt's continues and is not expected to be finished until fall of 2018. The Chapel and Museum remain open, but access to the grounds is less convenient. The south entrance remains open but is difficult to see. If you are coming to Barratt's from the north you need to go past Barratt's Chapel, take the Frederica exit, go over the overpass and come back northbound on Rt. 1. Stay in the right lane. Just pass the cemetery is the south entrance to Barratt's Chapel. Alternatively you can take one of the cemetery driveways and go around behind the Chapel and Museum to the parking lot in front of the Chapel. The former northern entrance to the museum grounds is now an exit only.