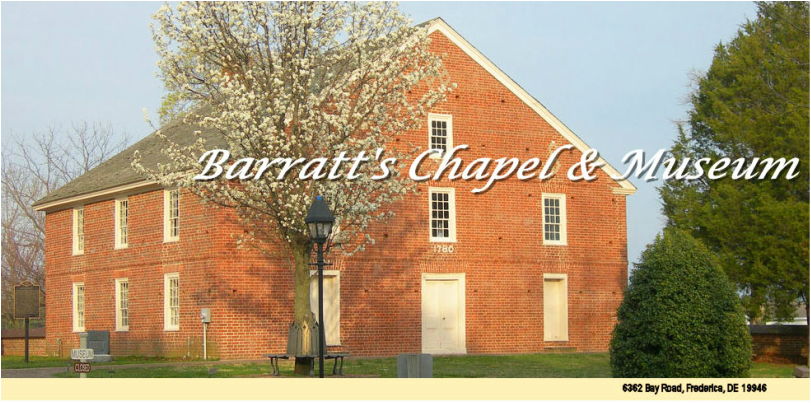 Christmas at Barratt's

Thursday, December 7

6:30 p.m.

Concert by The Reminders
​


Sunday, December 10

5:00 p.m.

Service of Lessons and Carols

The Kent Chamber Choir
The Delaware Youth Chorale
First State Brass
under the direction of

Dr. James Wilson



Sunday, December 24

5:00 p.m.

Candlelight Communion Service
led by
Bishop Peggy Johnson

ASL Interpreting for the Deaf
by Carol Stevens



A Note about Highway Construction

The construction work on Route 1 in front of Barratt's continues and is not expected to be finished until fall of 2018. The Chapel and Museum remain open, but access to the grounds is less convenient. The north entrance to Barratt's Chapel has been closed. The south entrance remains open but is difficult to see. If you are coming to Barratt's from the north you need to go past Barratt's Chapel, take the Frederica exit, go over the overpass and come back northbound on Rt. 1. Stay in the right lane. Just pass the cemetery is the south entrance to Barratt's Chapel. Alternatively you can take one of the cemetery driveways and go around behind the Chapel and Museum to the parking lot in front of the Chapel.